04
Snow Country Festivals
Playing in the Snow: From
child's play to festivals for all.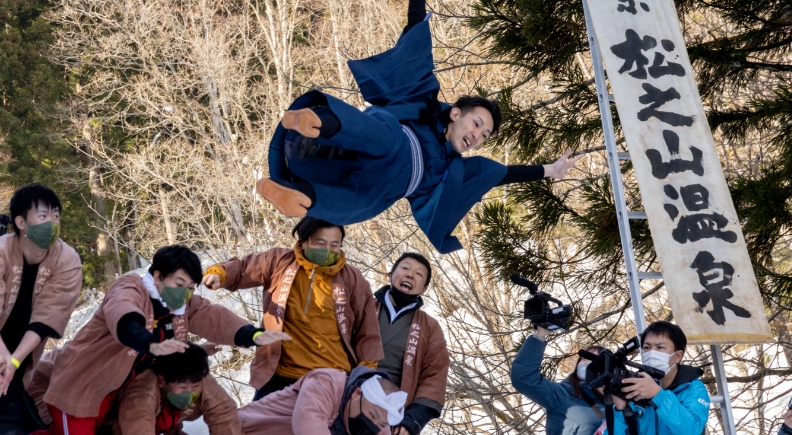 For Tokamachi citizens, snow is an integral part of their lives. It influences vital aspects of their culture such as food and building customs, and touches on more amusing aspects of the local culture and affects how residents interact with each other. From children playing in the snow, to a fun rite of passage for newlyweds, to a snowy event of messy fun, the people of Tokamachi aim to "think of snow as a friend, not as an enemy."
Every year, elementary school boys participate in an event called "bird chasing" held on January 14th. In this event they travel door to door and sing bird chasing songs to protect the fields from damage by birds.
Mukonage, (lit. throwing son-in-law) is a fun rite-of-passage during which newlywed grooms are tossed into the deep snow, a symbolic ritual done for good luck in the marriage, as well as a playful way of "punishing" the son-in-law for taking away their daughter.
Sumi-nuri (lit. inking) is another New Year's event meant to enjoy the snow, and to pray for health and prosperity, both at home and at work. Participants mix ash and snow and then smear it onto each other's faces, finally congratulating them. Although not popular with everyone, it is an opportunity to let go of your inhibitions and get a bit messy.
Held in February, the Tokamachi Snow Festival is the biggest snow festival on the main island of Japan, and full of rural charm! Originating from the idea to "enjoy snow as a friend," this festival is held in several sites in the area with snow sculptures and food stalls. Locals and visitors enjoy a truly uniquely Japanese winter experience.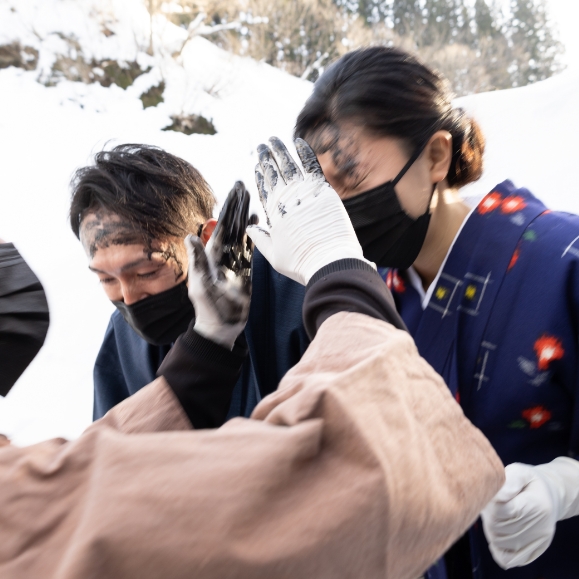 Cultural assets of Japan Heritage pertaining
to Tokamachi festivals
Mukonage
Tokamachi has a lovely custom in the winter to celebrate newlyweds. Started as a playful "warning" to the son-in-law who has married a girl from the village, the other men in the village of his wife-to-be raise him above their heads and toss him about five meters into the deep snow. The idea is "make her happy - or else!"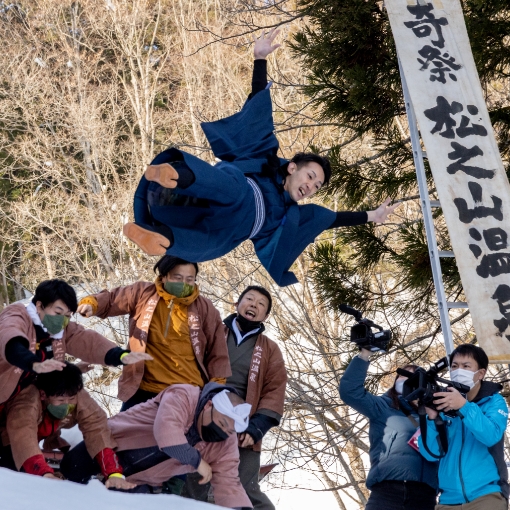 Tokamachi Snow Festival
Started about 70 years ago with the idea to "treat snow as a friend," local residents celebrate the snow each winter at the Tokamachi Snow Festival. Visitors will enjoy the many beautiful snow sculptures as well as singing, dancing, races and other contests. The Tokamachi Snow Festival is the biggest snow festival on the main island of Japan.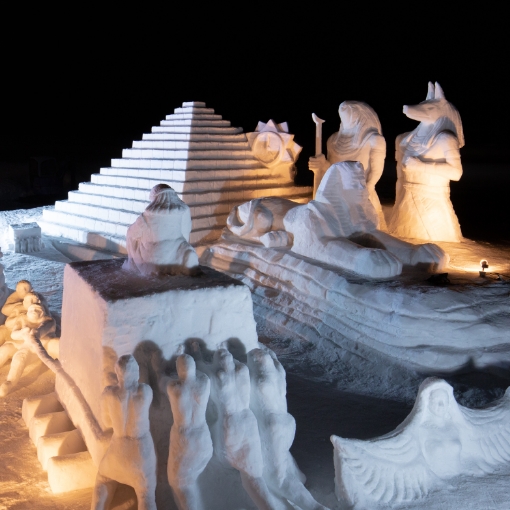 Festival experience in Tokamachi
Satoyama Visitor Center
Located in the middle of Matsunoyama Onsen area, the Satoyama Visitor Center provides sightseeing information, a place to relax and refresh, and a unique VR experience.
The bar-style counter, its distinctive white inspired by snow, is perfect to enjoy fragrant iced coffee and fresh pizza baked in the wood-fired oven and loaded with local ingredients. The comfortable sofa area is perfect for relaxing and planning the next sightseeing spot.
Two exciting VR experiences will submerge visitors into two of Tokamachi's winter events: the Mukonage and Sumi-nuri events. Experience the festival from a first person view in these thrilling celebrations!
Address : 9-4 Matsunoyama-Yumoto, Tokamachi City, Niigata
TEL : 025-595-8588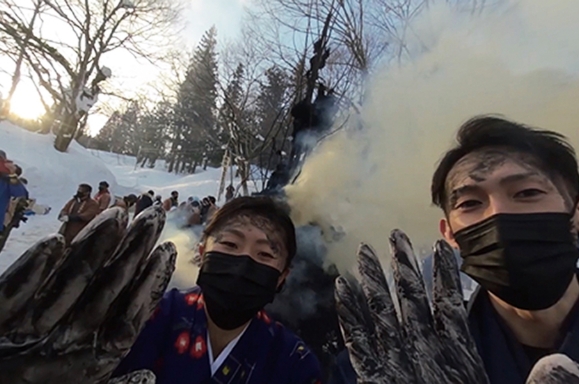 ---
For more experiences…