01
Snow Country Kimono
A story of the simple beauty of snow refelcted in the elegent beauty of traditional and modern kimonos.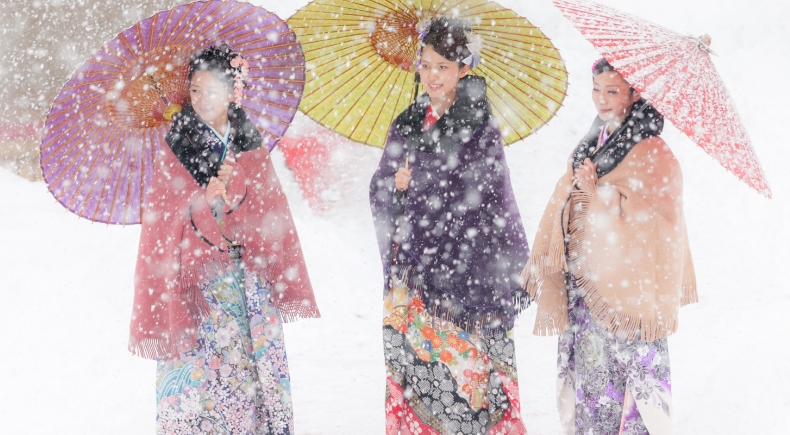 The history of cloth making in Tokamachi reaches as far back as the snow. As they say, necessity is the mother of invention, and there is no question about the necessity for warm clothing in a region with such severe winters as Tokamachi. It is this necessity that inspired innovation and eventually led to production of high quality textiles starting with plant-based angin to hemp and later changing to silk.
Long winters and heavy snow meant extended periods indoors doing manual labor and practicing skills such as knitting and weaving. And, there is no doubt that "practice has made perfect" the expertise with which the kimono craftsmen in Tokamachi create their wares.
As heavy snow immobilized outdoor activity, focus was placed on creating completed products in one location, instead of having different people or groups specialize. This approach solved the problem of immobility, and eventually led to the integrated factory production system that is used in many companies today.
Not only some of the major producers and sellers of kimonos, craftsmen in Tokamachi also help to clean and maintain the brightly colored kimonos used by many Japanese during their coming-of-age ceremony. Maintenance requires highly skilled craftsmen who know the history and characteristics of kimonos all over Japan.
At several kimono workshops in Tokamachi, such as the Suizan Kobo kimono workshop, visitors can see those craftsmen at work as they design and dye the kimonos. Additionally, a hands-on dyeing experience provides visitors with a beautiful souvenir and a better appreciation of the artisans' skill.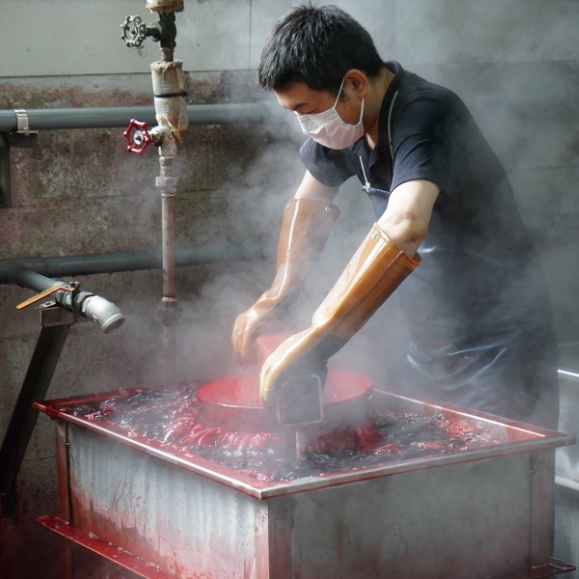 Cultural assets of Japan Heritage related
to the kimono industry in Tokamachi
Echigo-angin Manufacturing Methods
Tokamachi has been home to a heritage of cloth manufacturing expertise since ancient times. Even the modern kimono has humble roots reaching back thousands of years.
During the Jomon period, cloth called angin, which was fashioned by braiding yarn made from plant fibers such as ramie and akaso, was used for clothing and bags.
The technology used to create angin was believed to be lost to time, until an actual artifact was discovered in 1959. Up to that point, it was only believed that "this kind of cloth was made" because of the mesh found on pottery from the Jomon period. Later, ancient manufacturing methods were recorded and preserved in 1961. Currently, related artifacts are preserved almost exclusively in Tokamachi City and Tsunan Town.
Echigo-angin itself and its braiding techniques are recognized as tangible and intangible folklore respectively.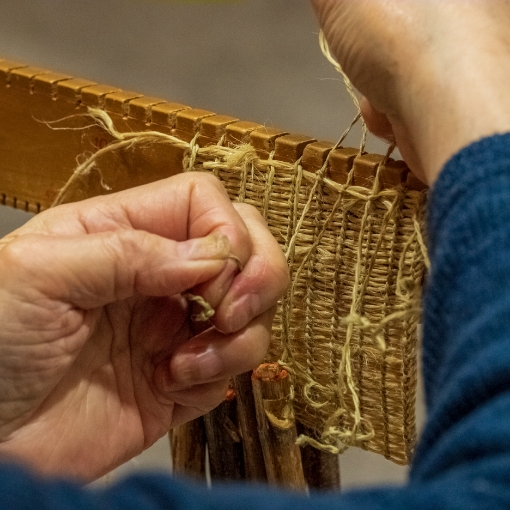 Tools and Related Materials Used for
Echigo-chijimi Textiles
Echigo-chijimi, an extremely refined hemp fabric woven with fine ramie thread, is arguably the origin of the modern Tokamachi kimono.
During the Edo period, production of textiles was a large source of income for many farming families, and it was common to find spinning machines in many homes in Tokamachi. Female farmers in particular were largely responsible for crafting Echigo-chijimi cloth. During the long winter season, these patient weavers devoted their time to kimono, honing their dyeing and weaving techniques and skills. The movement-hindering snow is credited with the intense focus they placed on creating textiles.
These laborers directly supported the kimono industry in Tokamachi during the early modern period.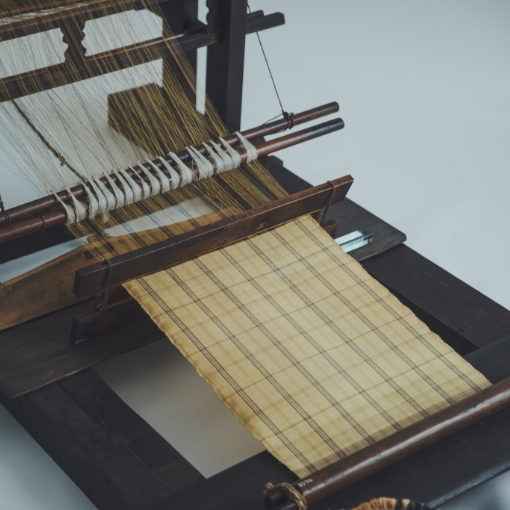 Kimono experience in Tokamachi
Suizan Kobo Kimono Factory Yūzen Painting
In addition to crafting beautiful kimonos of high quality, Suizan Kobo kimono workshop also offers visitors the opportunity to try their hand at yūzen painting. Yūzen is a Japanese resist dyeing technique where dyes are applied inside outlines made from rice-paste.
Despite having watched the experts only minutes ago, those who try this hands-on experience will gain a deeper understanding of just how difficult yūzen is. But they will also enjoy a colorful souvenir to remind them of their visit.
Address : 3-377-3 Takayama, Tokamachi City, Niigata Prefecture
TEL : 025-755-5515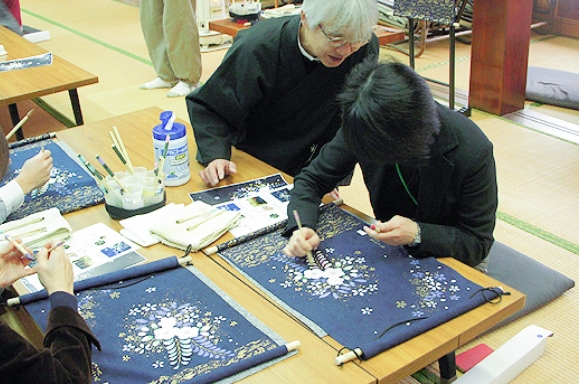 ---
For more experiences…